Contemporary surgical treatment of abdominal aortic aneurysms (AAA) has evolved dramatically over the past two decades.
This has been largely due to the introduction and improvements in minimally invasive endovascular AAA repair. Today, open surgery is generally reserved for patients with extensive aneurysms that might not be amenable for EVAR; the most likely scenario includes patients that have anatomical limitations that don't allow for minimally invasive endovascular repair to be performed safely, for treatment of endovascular repair failures, or for patients that might prefer open surgical repair.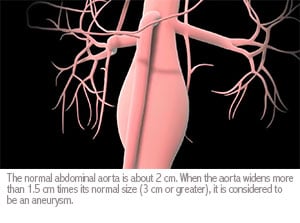 The indications for AAA treatment are based on aneurysm size (generally larger than 5 cm), aneurysm growth rate, and sometimes aneurysm shape. Patients with AAA larger than 5 cm, or AAA with recent growth, or saccular shape might be candidates for open surgical repair. Open surgical AAA repair requires general anesthesia and is generally associated with more stress to the body. Therefore, when planning open surgical repair, a thorough medical and cardiac evaluation is necessary. In patients that might have pre-existing cardiac co-morbidities, the cardiologists might determine the need for heart catheterization to better evaluate and possibly treat the underlying heart disease. Furthermore, a detailed medical evaluation and optimization of underlying medical risks might be necessary in preparation for open surgical repair of AAA. Patients with severe medical co-morbidities should be considered for minimally invasive endovascular AAA repair.

The surgery is performed either through an up or down or midline incision (transperitoneal approach) or a left flank angled incision (retroperitoneal approach). During the procedure, the patient is asleep under general anesthesia. The anesthesiologist will monitor the patient's blood pressure and heart carefully to medically reduce the risk and stress of surgery and collectively the vascular surgeon and the operative team will plan the procedure to limit the duration of the anesthesia and operative time. During the operation, the vascular surgeon identifies healthy aorta above and below the aneurysm and replaces the AAA with a prosthetic graft made of Dacron or Polytetrafluoroethylene (PTFE). The vascular surgeons often tailor the surgical approach to the patients underlying aneurysm anatomy and might also have to perform surgical bypass to provide blood to important abdominal organs such as the kidneys and bowels.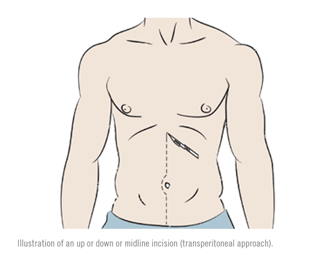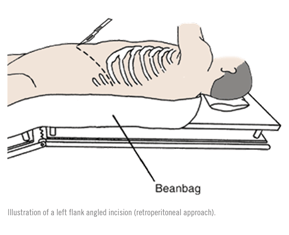 Depending on the complexity of the surgery, and on patients' underlying medical conditions, postoperative recovery might require patients to stay in the Intensive Care Unit for one or more days. The overall recovery time in the hospital is usually 4-7 days and might include physical therapy. In general, postoperative complications are often dependent on patients' pre-existing medical conditions, and can occur in 10-20% of the patients. The vast majority of these complications occur in the immediate post-operative period. Most patients will also recover with optimal medical management, and chance of death from complications of surgery is approximately 2-3%. Since open surgical AAA repair requires incision in the torso, the muscles and tissues have to heal for patients to return to full normal activities, which can take 6-8 weeks.
Today, open surgical AAA repair remains an important consideration in the vascular surgeon's toolbelt for managing complex aortic aneurysms. Patients need to understand all treatment options when making a decision as to which option is best for them.
Ask Your Doctor
Am I a candidate for surgical repair of my aortic aneurysm?
After repair of my aortic dissection, what will my recovery be like?
What follow-up testing do you recommend?
For more information and to schedule a consult, please contact us.

This article is a V-AWARE Property. Center for Vascular Awareness, Inc. (www.myvascularhealth.org)