At the Vein Institute of New Jersey, we believe it is important to share stories about positive patient outcomes (with the approval of the patient, of course). While we are experts in handling the physical side of our patient's vein issues, it's the emotional results that follow which can be most important to understand.
We know that when our bodies change from what we have been used to, confidence can diminish and low self-esteem can occur. That's why when it comes to vein issues, we always encourage you to get a professional evaluation. In most cases, there is a chance to feel that youthful, assured glow once again.
Our recent success story comes from a 34-year-old mother of three who lives in Roxbury, NJ. While she had a family history of varicose veins, it was not until her third pregnancy, that she presented with vein issues on her right foot and leg.
During her consultation with our Dr. Scott Sundick, she explained that not only did she feel her lower extremities were visibly unattractive, but she was also feeling discomfort and tiredness. She wanted to get her foot and leg back to pre-pregnancy conditions so she sought out help. She was directed to the Vein Institute of NJ by a friend familiar with our practice.
She came in for a consultation and based upon her condition and desired results, Dr. Sundick counseled her about the Ablation and Microphlebectomy procedures, and how they would be the suggested course of treatment for her right leg and foot.
The patient agreed and later commented that she felt relieved knowing that Dr. Sundick conveyed confidence in the procedure and his ability to fix her leg. As a first-time patient, her initial concerns were allayed. She said she felt Dr. Sundick answered all of her questions, was responsive to her apprehensions, and, overall, put her into a comfortable state prior to the treatment.
BEFORE AFTER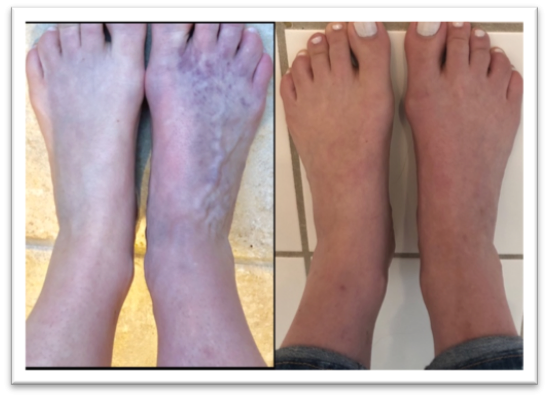 The procedure was a success! The patient was delighted with the outcome. She was amazed how soon after the treatment she was able to see and feel a difference. Now, she is completely comfortable showing off her foot and leg and has regained the self-confidence about her body that she was unsure could be found again. Based on these results, she's now considering sclerotherapy treatment for her spider veins in the near future.
If you or someone you know is experiencing some of the anxiety and confidence issues our patient went through, schedule an appointment today with one of our board-certified vascular doctors. You may just wonder why you waited so long!
Download our eBooks for more information ...