The Vein Institute of NJ is honored to receive notification of being singled out as a provider who offers a "Top Rated Patient Experience".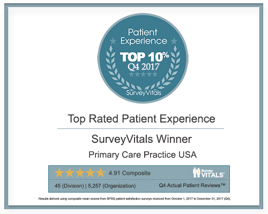 With a 4.89 rating out of a possible 5.0 over the last quarter, we are in the top 10 % of more than 4200 monitored medical practices across the county.
In addition, our Shrewsbury office received a 4.91 rating out of a possible 5 as measured for a the full year in 2017, which ranks us in the Top 10% of patient satisfaction!!
The award was presented by Survey Vitals, a third-party vendor of patient satisfaction surveys which focus on providing feedback to improve medical practices. Scores were calculated using Actual Patient Reviews through SurveyVitals patient satisfaction questionnaire (SPSQ) completed during October 1 to December 31, 2017 for the Q4 award. The Shrewsbury results were measured from patient satisfaction questionnaires (SPSQ) completed during January 1 - December 31, 2017.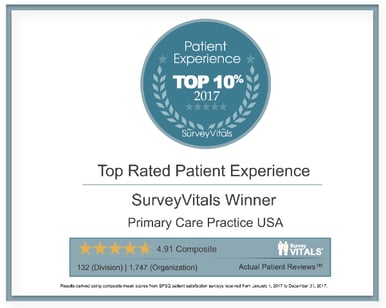 Our vascular doctors at the Vein Institute of NJ are always here to help. This award validates the conscious efforts we make to ensure the best for our patients' well-being and overall health.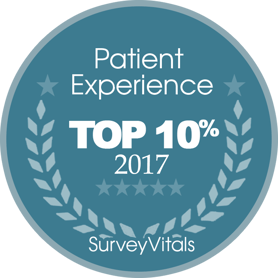 Download our newest eBook on the Seven Common Misconceptions of Varicose Vein Treatment: